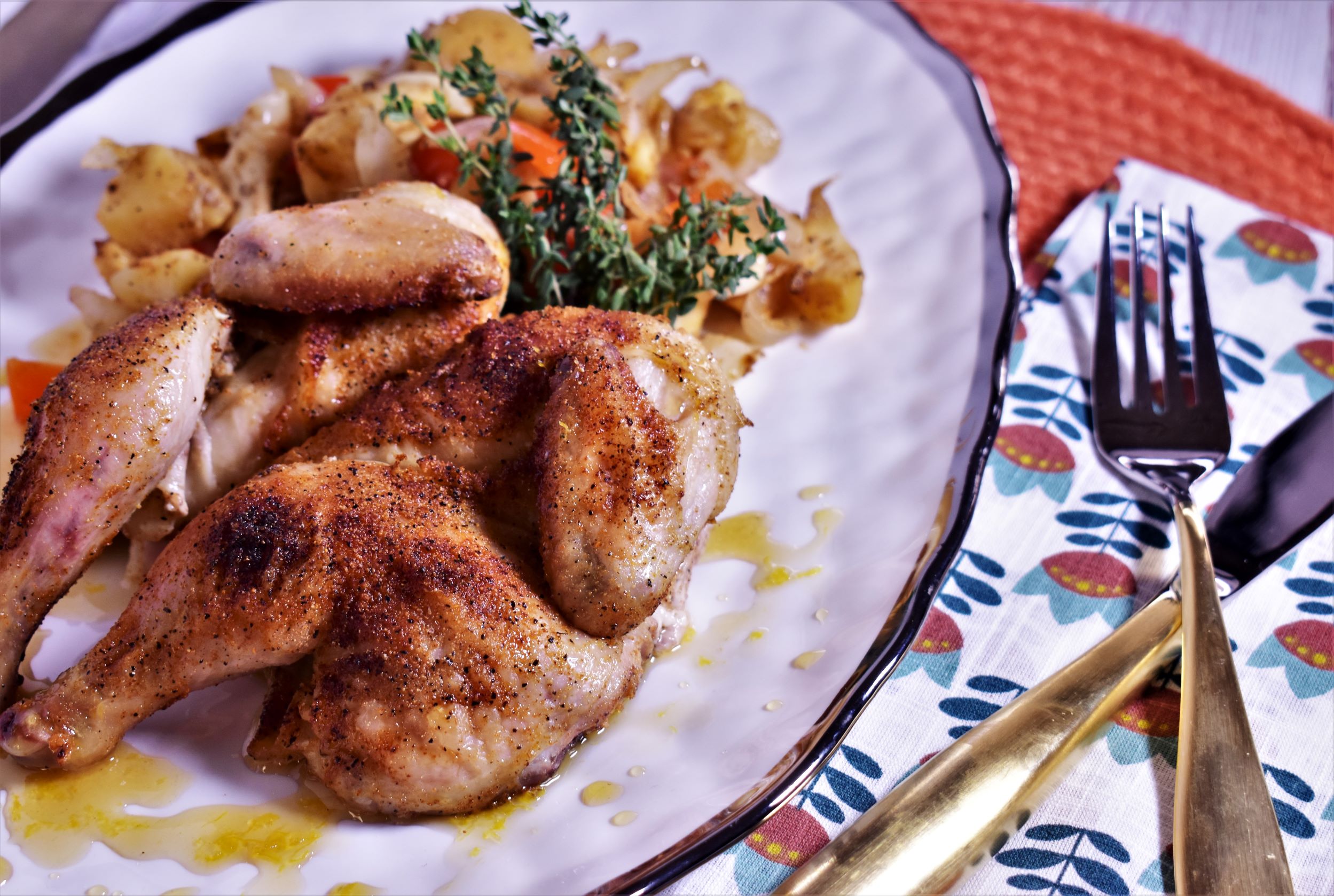 Servings
Makes 2 servings
Ingredients
2 tablespoons honey
1 tablespoon lemon juice
1 teaspoon lemon zest
1 Cornish hen
1 tablespoon + 1 teaspoon olive oil, in all
1 tablespoon + 2 teaspoons Magic Creole Seasoning®, in all
¾ cup julienned onions
½ cup medium-diced red bell pepper
1 cup diced parsnips
10 cloves smashed garlic
2 tablespoons cubed unsalted butter
---
How To Prepare
Whisk the honey, lemon juice, and lemon zest together in a small bowl. Cover and set aside until ready to serve.

Remove Cornish hen from wrapping, place on a small baking sheet and pat dry with a paper towel. Place sheet pan into the fridge, uncovered, for at least an hour to completely dry the skin.

Preheat oven to 400°F.

Spatchcock the hen by using cooking shears to remove the wing tips and backbone. Flatten and spread, breast side up, on a baking sheet or cutting board.

Rub the top with 1 teaspoon of the oil and season the whole hen (underside too) with 1 tablespoon of the Magic Creole Seasoning®.

In a bowl, toss the vegetables and butter with the rest of the Magic Creole Seasoning® and the oil. Transfer to a small sheet pan or roasting dish.

Lay the seasoned hen on top of the vegetables, breast side up, and roast in the oven for 45 minutes.

Remove from oven and let rest for 5 minutes. Serve hot, drizzled with the reserved honey lemon sauce.


NOTE: Cooking for a heartier appetite or guests? Just add one extra teaspoon of olive oil and one tablespoon of seasoning per hen to your shopping list.