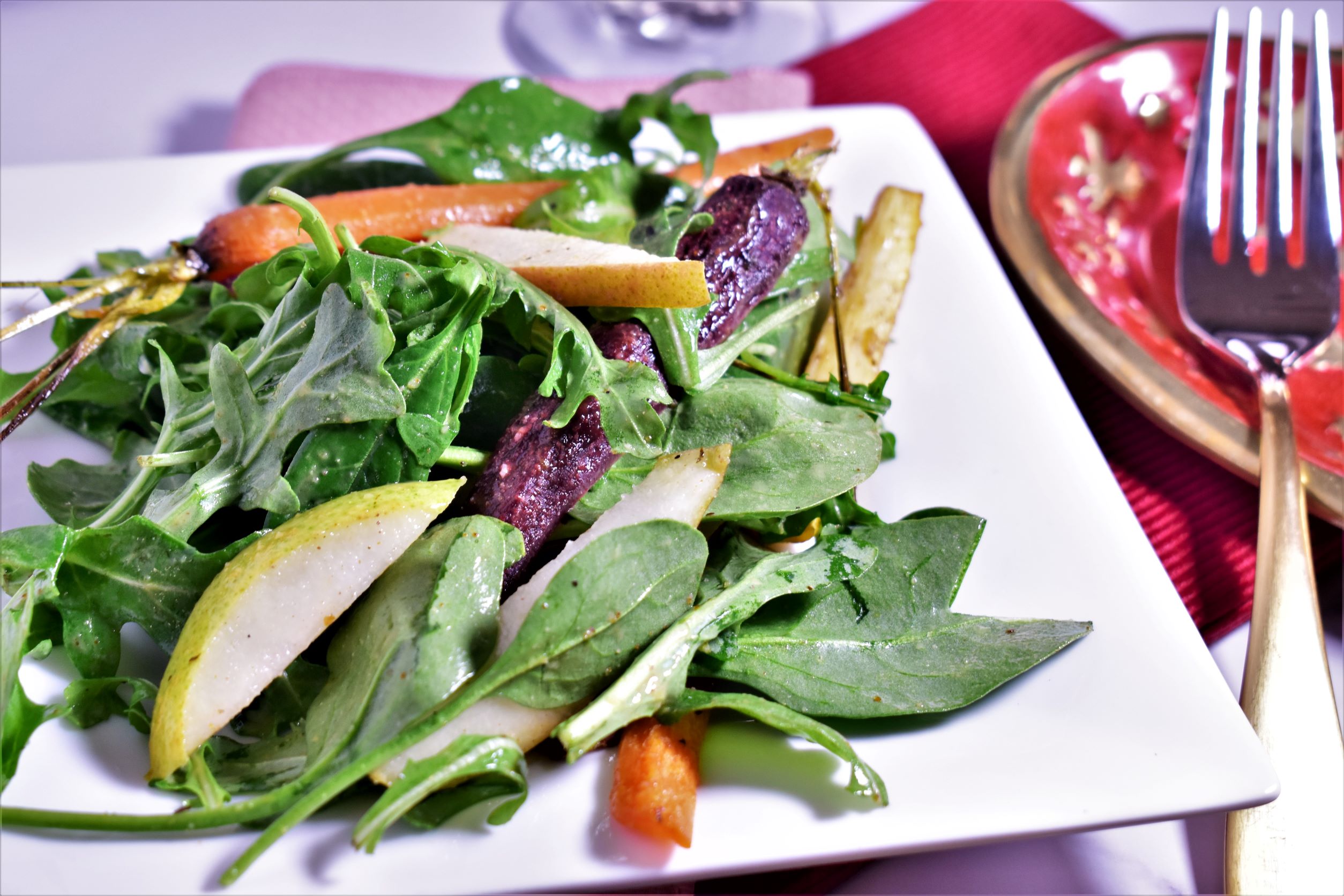 Servings
Makes 4 salads
Ingredients
CHAMPAGNE VINAIGRETTE
1 teaspoon garlic
2 tablespoons Dijon mustard
¼ cup champagne vinegar
2 tablespoons honey
½ tablespoon Vegetable Magic®
½ cup extra virgin olive oil


ROASTED ROOT VEGETABLE SALAD
1 cup carrots, peeled and cut into long thing slices
1 cup parsnips, peeled and cut into long thing slices
1 cup red onion, thinly sliced
2 tablespoons olive oil
1 tablespoon Magic Seasoning Salt®
1 cup arugula
½ cup baby spinach
Champagne Vinaigrette
1½ cups pear, thinly sliced
---
How To Prepare
CHAMPAGNE VINAIGRETTE
In a blender or kitchen mixer, add all vinaigrette ingredients, except oil, and blend on high for 1 to 2 minutes. Gradually add in the olive oil and continue blending until fully emulsified. Chill until ready to use.


ROASTED ROOT VEGETABLE SALAD
Preheat oven to 400°F.

In a large bowl, add carrots, onions, parsnips, olive oil and Magic Seasoning Salt®. Mix well, then transfer to a parchment lined baking sheet. Bake for 20 to 25 minutes, or until veggies are nicely browned. Remove from oven and let cool.

Add arugula and spinach to a large bowl and toss with about ¼ cup of the reserved champagne vinaigrette. Add pears and roasted vegetables and toss with ¼ cup vinaigrette (use according to taste). Serve immediately.