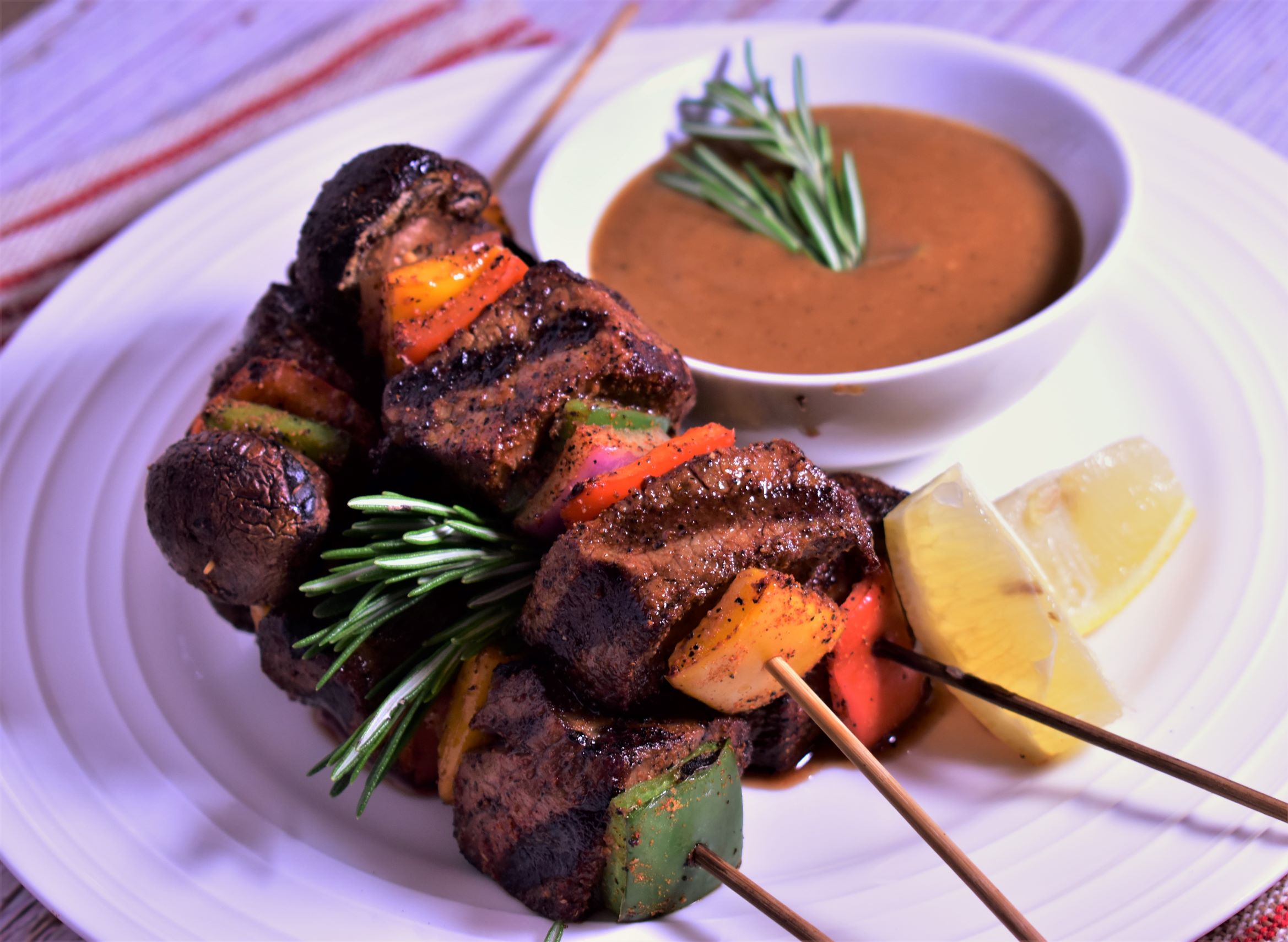 Servings
Makes 2 main course or 4 appetizer servings
Ingredients
SKEWERS:
1 tablespoon Barbecue Magic® or Burger Magic®, divided
1 small red bell pepper, cut into 1-inch squares
1 small yellow bell pepper, cut into 1-inch squares
1 small green bell pepper, cut into 1-inch squares
1 small red onion, cut into 1-inch squares
4 mushrooms, medium size
8 (1-inch) cubes of beef cut from the filet tail or tenderloin
4 (8-inch) skewers

SAUCE:
2 tablespoons unsalted butter
2 tablespoons all purpose flour
2 teaspoons Barbecue Magic® or Burger Magic®, in all
1½ cups beef stock
1 tablespoon chopped fresh rosemary leaves (or 1½ teaspoons dried rosemary leaves)
1 teaspoon dark brown sugar
1 teaspoon balsamic vinegar
---
How To Prepare
Prepare the skewers: In a mixing bowl, toss the vegetables with 2 teaspoons of the Magic Seasoning Blend until evenly coated. Toss the beef with 2 teaspoons of the Magic Seasoning Blend until evenly coated. Thread the beef and vegetables onto 4 (8-inch) skewers (2 cubes of beef per skewer). Alternate the beef with groups of vegetables to make an attractive presentation. Top each skewer with a mushroom. Refrigerate until ready to use.

Prepare the sauce: In a skillet over high heat, make a roux with the butter and flour. Whisk constantly until the roux is tan color, then add the Magic Seasoning Blend and whisk frequently until the roux is a rich golden color. Add the stock and whisk until the roux and liquid are fully combined and smooth. Whisk in the remaining ingredients. Continue to cook, whisking frequently, until the sauce comes to a boil and is somewhat thick. Adjust the sauce with a little stock if needed. Keep warm while cooking the skewers.

Cook the skewers on a lightly oiled charcoal grill, or in a lightly oiled large skillet over high heat, or in a very hot oven or broiler. Cook evenly on all sides, until the meat reaches your preferred degree of doneness. Serve immediately accompanied by the sauce.

NOTE: If you are using wooden or bamboo skewers, soak them in water for about one hour to help prevent them from charring. If you are lucky enough to have your own rosemary bush, you can make your own skewers from the woody stems of the plant.