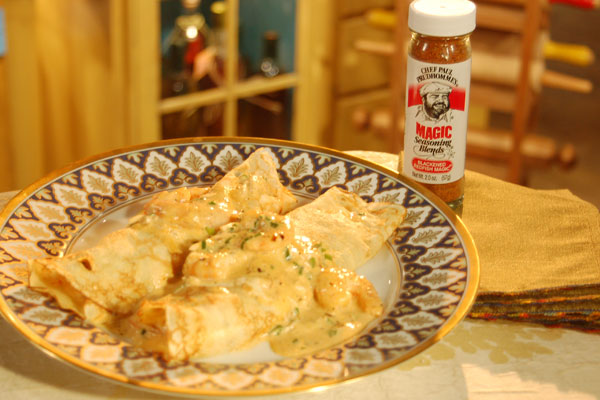 Servings
Makes 6 main-dish or 12 appetizer servings
Ingredients
Crêpes BATTER
1½ cups milk
2 eggs
1½ tablespoons vegetable oil
1 teaspoon sugar
¼ teaspoon ground nutmeg
pinch of salt
¾ cup + 1 tablespoon sifted all-purpose flour
FILLING INGREDIENTS
4 tablespoons unsalted butter
¼ cup finely chopped onions
1 tablespoon Chef Paul Prudhomme's Seafood Magic®
Chef Paul Prudhomme's Blackened Redfish Magic
½ cup finely chopped green onions
1 tablespoon all-purpose flour
1¼ cups heavy cream
½ cup lump crabmeat (picked over)
2 pounds peeled medium shrimp
12 crêpes
---
How To Prepare
To make the crêpes:

In a medium-size bowl combine the milk, eggs, oil, sugar, nutmeg and salt; mix well with a metal whisk. Add the flour and whisk again just until blended and no lumps of flour remain; do not overbeat.

Very lightly oil an 8-inch slope-sided crêpe pan (or 10-inch nonstick skillet), then wipe it with a towel until the pan has only enough oil on it to be shiny. Heat the pan over medium heat about 2 minutes or until a drop of batter sizzles as soon as it is dropped in the pan. Then pick up the pan and slant it away from you. Pour 2 tablespoons batter into the pan, quickly rolling the batter so it thoroughly coats the bottom and slightly up the sides of the pan; make the crêpe as thin as possible.

Cook until the edges and bottom are golden brown, about 30 seconds to 1 minute; brown only one side of the crêpe. Remove the crêpe from the pan and place it on a plate to cool, browned side up. Heat the pan about 15 seconds before cooking the next crêpe. Repeat with the remaining batter, re-oiling the pan if necessary.

Keep the crêpes covered with a damp cloth at room temperature until ready to serve. They should be used within 2 hours.

For the filling:

Melt the butter in a 2-quart saucepan over high heat. Add the onions and sauté until they start getting tender, about 2 to 3 minutes, stirring occasionally. Add the Seafood Magic® or Blackened Redfish Magic and cook about 1 minute, stirring occasionally. Add the green onions and flour, stirring until flour is completely blended into the butter. Then stir in the cream and bring to a boil, stirring frequently. Add the crabmeat; return to a boil, stirring often and leaving crabmeat lumps intact as much as possible; reduce heat and simmer until sauce has thickened slightly, about 1 minute, stirring almost constantly. Return heat to high. Add the shrimp and cook until shrimp are pink and just starting to curl, about 2 to 4 minutes, stirring often. Remove from heat and serve immediately.

To serve for a main course:

Place 2 crêpes on each heated plate; fill each crêpe with a scant 1/3 cup filling, then fold crêpe in thirds, with fold side down. Spoon a little extra filling on top. For an appetizer, serve 1 crêpe per person.