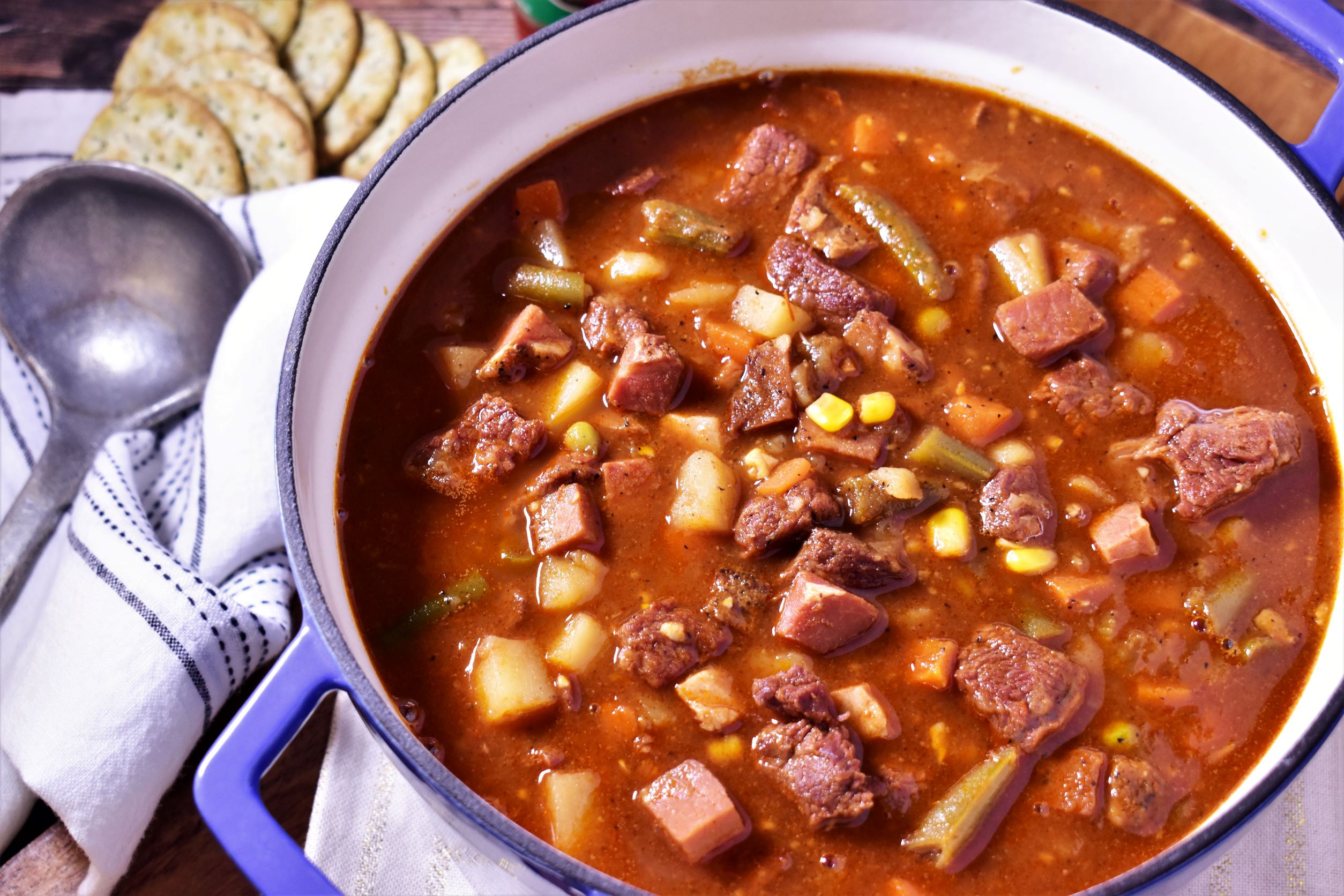 Servings
Makes about 10 cups
Ingredients
1½ lbs chuck roast (or 1 lb chuck roast and ½ lb tasso), cut into ½-inch chunks
3 tablespoons Meat Magic®, in all
2 tablespoons olive oil, in oil
1 cup diced onions
½ cup diced celery
2 tablespoons minced garlic
1 tablespoon tomato paste
1 cup crushed tomatoes
6 cups beef bone broth
1 tablespoon Magic Pepper Sauce®
3 cups peeled Russet potatoes, diced into ½-inch cubes
1 (12 oz) bag frozen mixed vegetables (corn, peas, carrots)
---
How To Prepare
Season the chuck with 1½ tablespoons of Meat Magic®.

Heat 1 tablespoon of oil over medium high heat in a large, heavy bottomed pot. Once hot, add the chuck and brown on all sized, being careful not to burn.

Using a slotted spoon, remove the meat from the pot and set aside. Add the rest of the oil, the onions, celery, and garlic and stir well, scraping up any brown bits. Cook until the onions are almost translucent, then add the tomato paste. Stir well to combine and cook for 2 minutes.

Add the meat back to the pot along with the remaining Meat Magic®, the crushed tomatoes, broth, Magic Pepper Sauce®, and Tasso (if you are using it). Stir well and bring to a boil. Reduce to a simmer, cover, and cook for 1 hour.

After one hour, add the potatoes and frozen vegetables. Bring back to a simmer, cover and cook for another 25 minutes.

Serve hot.