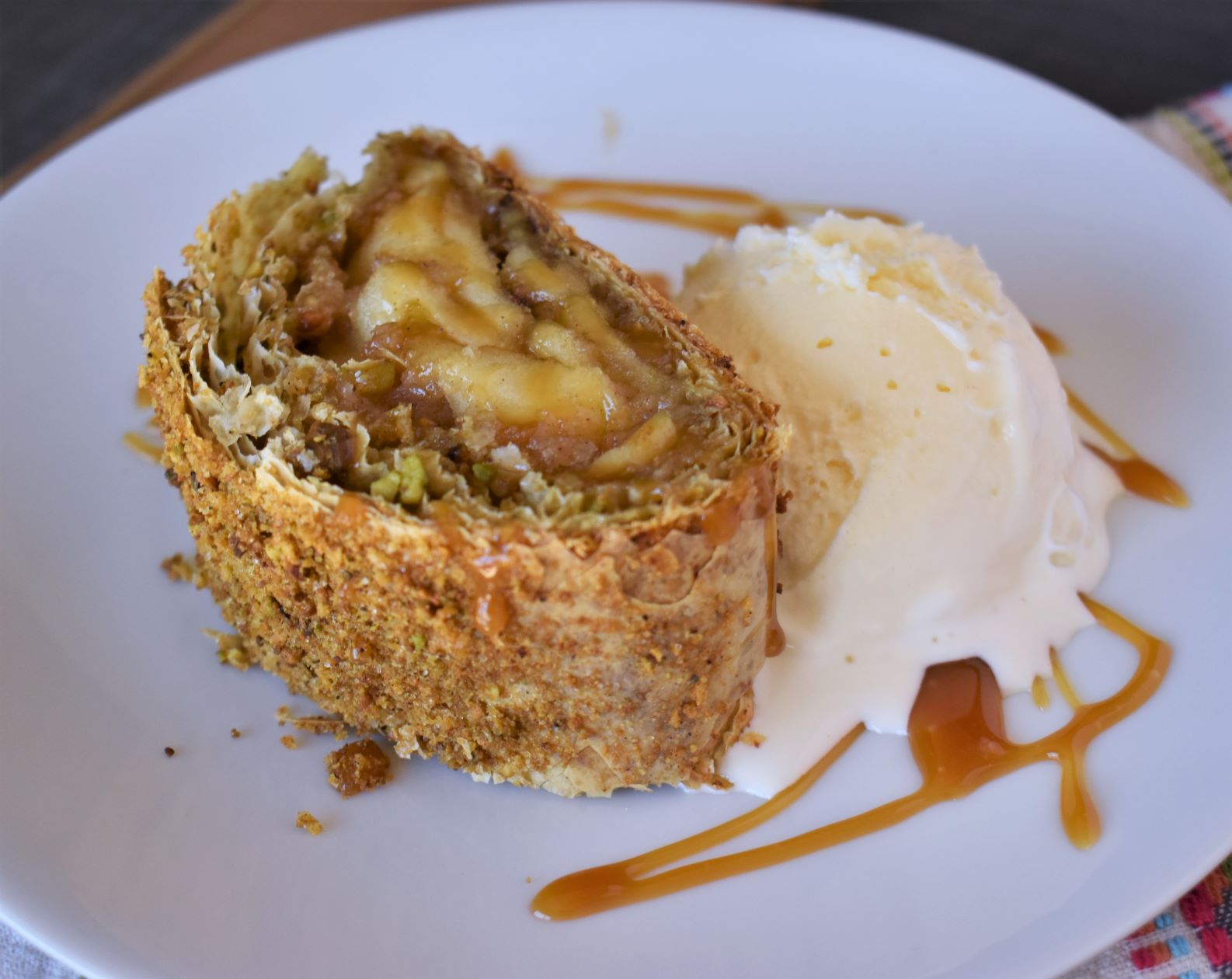 Servings
Ingredients
1¾ sticks (14 tablespoons) unsalted butter, in all
3 Granny Smith apples, peeled, cored, and sliced
4 tablespoons Sweetie Magic®, in all
¼ cup sugar
½ teaspoon Kosher salt
¼ cup + 3 tablespoons light brown sugar, in all
1 tablespoon lemon juice
¼ cup raisins
⅔ cup panko breadcrumbs, in all
⅔ cup pistachios, shelled
5 sheets phyllo dough
---
How To Prepare
Preheat oven to 350°F. Melt 3 tablespoons of butter in a large sauté pan over high heat. When butter is melted, add the apples and toss to coat. Cook until starting to brown and add 2 tablespoons of Sweetie Magic®, sugar, salt and ¼ cup of light brown sugar. Toss to coat. Cook until all sugar has melted into a thick syrup. Remove from heat and pour into a bowl. Add the lemon juice, raisins, and 7 tablespoons of the breadcrumbs to the bowl. Mix well and set aside.

Add pistachios to a food processor and pulse until they are fine but still have some larger pieces. Add the rest of the Sweetie Magic®, light brown sugar, and breadcrumbs and pulse 3 more times to mix. Scrape into a bowl and set aside. Melt the rest of the butter in a bowl.

To assemble, place one sheet of phyllo dough on a cutting board. Brush with melted butter then sprinkle a couple tablespoons of the reserved pistachio mix over it. Place another sheet of dough over this and repeat with butter and pistachio mix. Do this until all 5 sheets are buttered and have pistachios. Scoop the apple mixture onto the last layer, about 4 inches from the edge of the shorter side of dough. Roll up like a jellyroll and place onto a greased and lined baking sheet. Brush the top with butter and sprinkle more pistachio mix over the top (you may have a little extra). Place in preheated oven for 30 minutes, then rotate the pan and continue baking for another 15 minutes. Remove to a wire rack and let cool for 15 minutes before cutting and serving.