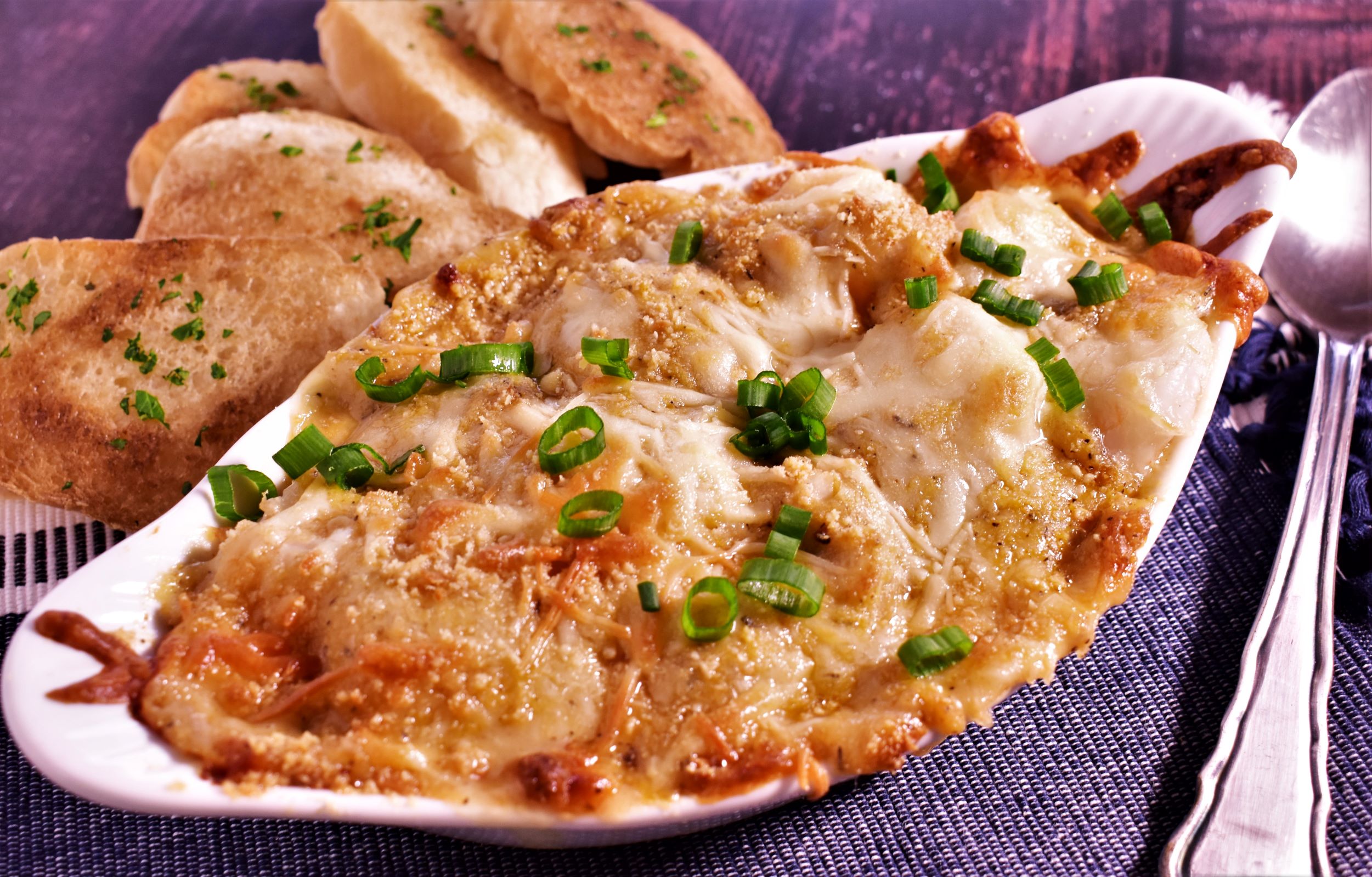 Servings
Makes 6 servings
Ingredients
AVERY ISLAND SAUCE:
4 tablespoons unsalted butter
2 cups chopped onions
1 tablespoon minced garlic
3 tablespoons Chef Paul Prudhomme's Herbal Pizza & Pasta Magic®
2 tablespoons Chef Paul Prudhomme's Seafood Magic®
1 teaspoon salt
1 cup all purpose flour
3½ cups seafood stock
3 cups shredded Monterrey Jack cheese
3 cups shredded Parmesan cheese
½ cup grated Romano cheese
1½ cups heavy cream

GRATINÉE:
1½ cups diced fresh tomatoes
2 dozen large shrimp, peeled
6 large scallops, cut into about 4 pieces each
1 fish fillet (any firm-fleshed fish), cut in about 12 pieces
½ pound orecchiette pasta (or your favorite pasta), cooked al dente
½ cup shredded Monterrey Jack cheese
½ cup shredded Parmesan cheese
½ cup grated Romano cheese
---
How To Prepare
AVERY ISLAND SAUCE:
Melt the butter in a skillet over medium high heat. Add the onions and cook, stirring frequently, until the onions are translucent, about 4 minutes. Add the garlic, Herbal Pizza & Pasta, Seafood Magic® and salt. Stir well and lower the heat. Cook until the seasonings have darkened slightly, about 2 minutes. Add the flour. Stir until the white of the flour has disappeared. Add the stock and bring to a boil, stirring frequently until the sauce thickens, about 2 minutes. Add the cream and return to a boil, stirring constantly. Remove from heat and chill.

When cold, add the cheeses and stir to distribute evenly.

GRATINÉE:
Preheat the oven to 350°F.

Divide the pasta between six ovenproof serving bowls. Top each bowl with tomato, shrimp, scallops and fish, then top each bowl with about 1 cup of the Avery Island Sauce. Sprinkle each bowl with each of the three cheeses. Bake until the dish is heated through and the cheese is brown and bubbly, about 15 minutes.