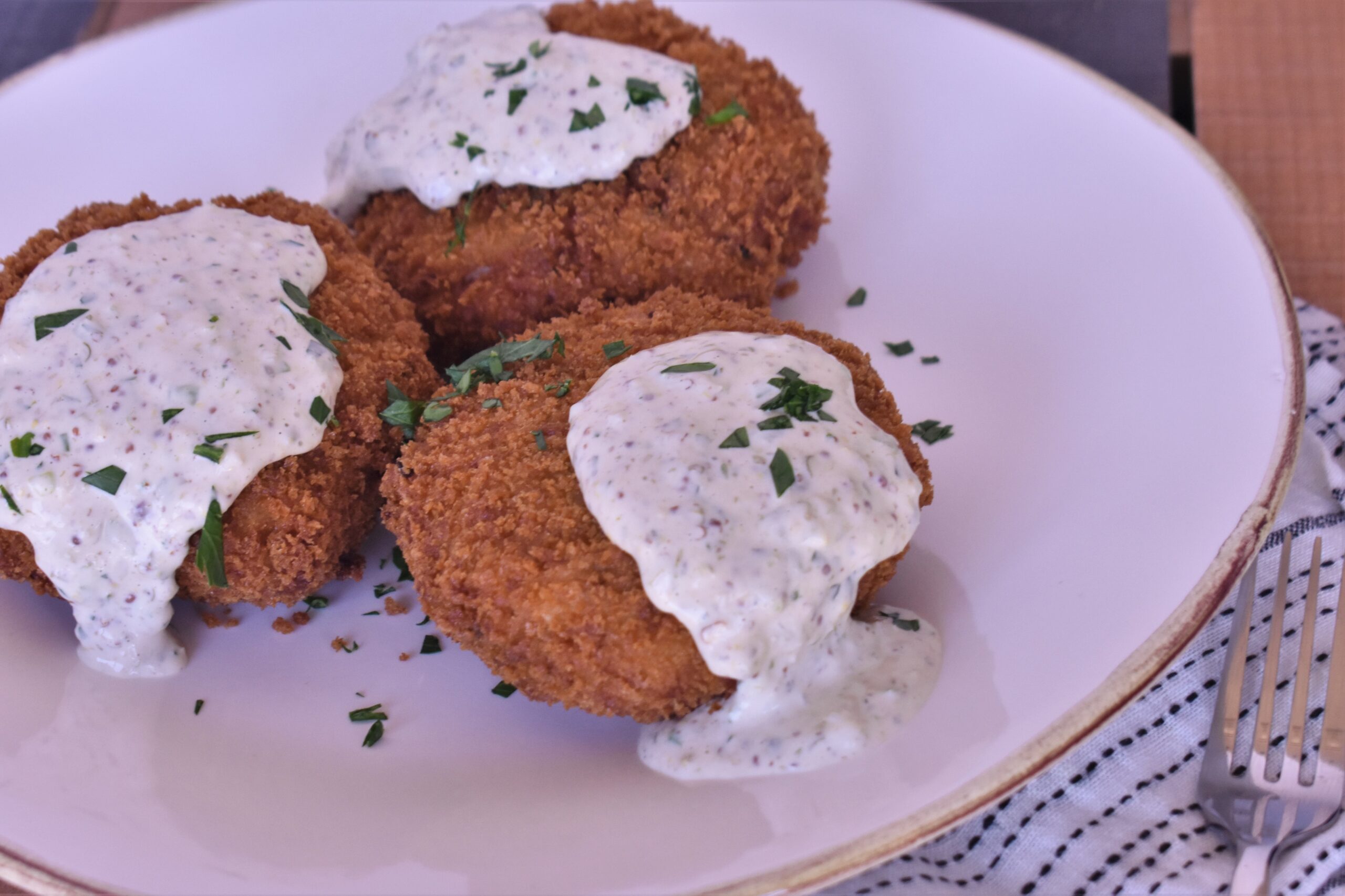 Servings
Makes 8 cakes
Ingredients
½ cup mayonnaise
3 eggs, in all
2 tablespoons Creole mustard
2 teaspoons Dijon mustard
1 teaspoon Worcestershire sauce
1 teaspoon Chef Paul Prudhomme's Magic Pepper Sauce®
1 teaspoon lemon juice
1 tablespoon Magic Creole Seasoning
¼ cup finely diced red onions
2 tablespoons finely diced celery
2 tablespoons finely diced green bell pepper
2 tablespoons finely diced red bell pepper
2 tablespoons finely diced yellow bell pepper
¼ cup thinly sliced green onions
1 tablespoon finely chopped parsley
1½ cups crumbled Ritz crackers
1 pound fresh lump crab meat, picked clean of shells
2 cups all-purpose flour
2 cups panko breadcrumbs
1 quart oil
---
How To Prepare
In a large mixing bowl, whisk 1 egg, then add mayonnaise, Creole mustard, Dijon mustard, Worcestershire sauce, Magic Pepper Sauce®, lemon juice, and Magic Creole Seasoning and stir well to combine. Add the onions, celery, bell peppers, green onions, parsley crackers and crab meat and gently fold to combine, being careful not to break up the lumps. Refrigerate mixture for at least an hour. Remove from refrigerator, hand-form mixture into 4-ounce cakes and lay on a sheet pan. Place pan in freezer for 5 minutes.
While chilling, whisk 2 eggs together in a mixing bowl and set aside. Pour the flour and breadcrumbs into separate mixing bowls and set aside with the eggs. Remove cakes from freezer and bread them by lightly coating in flour, then dipping in egg wash, then fully coating in breadcrumbs. Refrigerate until ready to fry.
Heat the oil in a large non-stick skillet on medium heat. When hot, add the cakes to the pan, working in batches. Cook for 3 to 4 minutes each side, carefully flipping in between. Fry until golden brown and serve with
Creole Remoulade Blanc
.