Whether you prepare this bread dressing in a casserole dish, or use it as a stuffing for your turkey, chicken or pork chops, we guarantee you'll want to have an extra serving – maybe even two!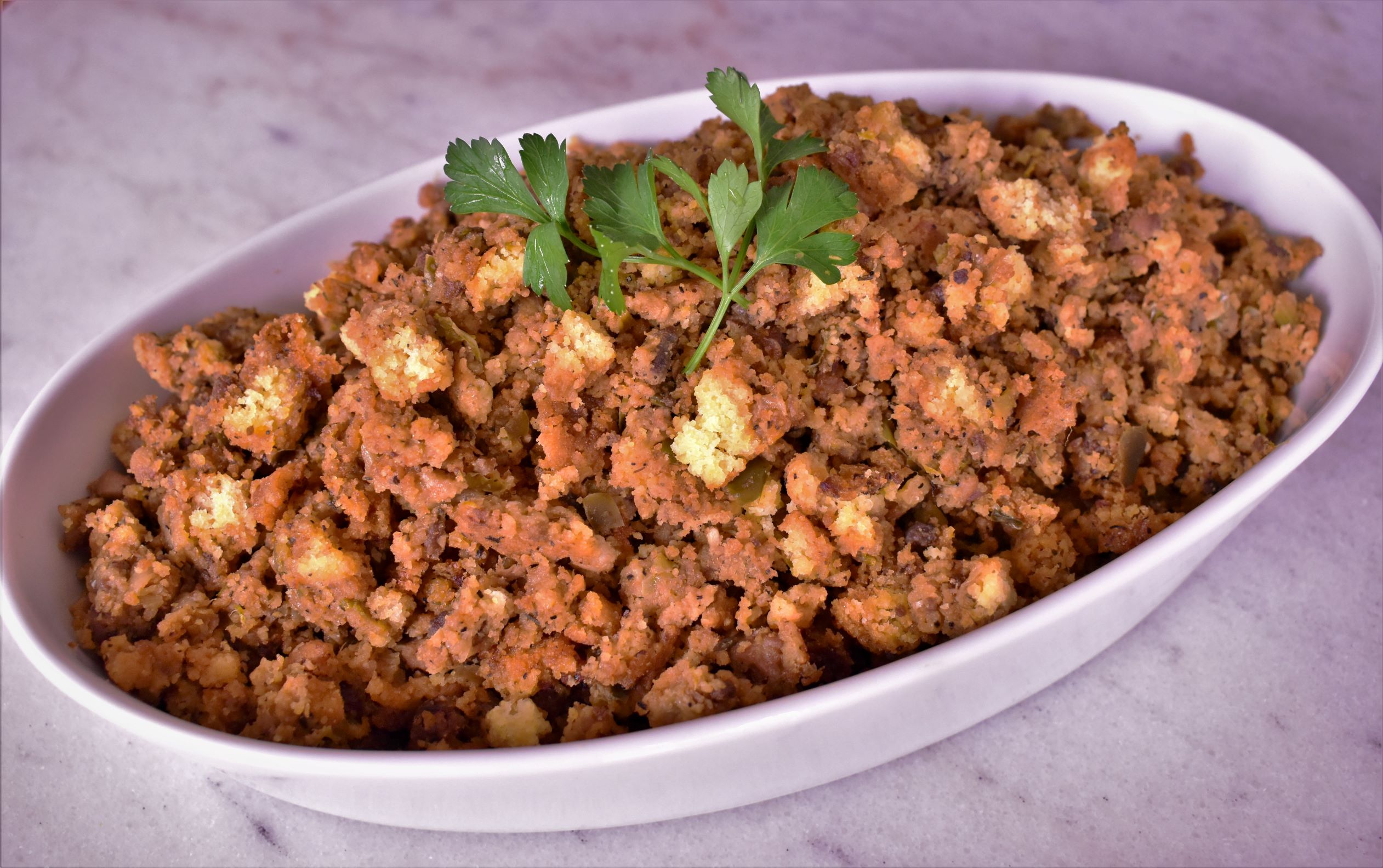 Servings
Makes 6 cups
Ingredients
½ cup evaporated milk
1 egg
5 tablespoons unsalted butter, in all
2 bay leaves
1½ cups finely chopped onions
1 cup finely chopped green bell peppers
1 cup finely chopped celery
2½ teaspoons minced garlic
2 tablespoons Poultry Magic®
2 tablespoons Magic Pepper Sauce®
1 lb duck or chicken giblets, ground
4 cups prepared cornbread, roughly crumbled
---
How To Prepare
Preheat oven to 300°F.

Process the egg and evaporated milk together in a blender at medium speed until fully combined, about 20 seconds. Set aside.

Spread the crumbled cornbread on a sheet pan and bake in a 300F oven until the crumbs are dry and a touch of brown is showing on the larger pieces, about 30 minutes. Remove from oven and increase oven temperature to 400°.
In a 3-quart pot, melt 3 tablespoons of butter together with the bay leaves. Add the onions. Cook, stirring frequently, until onions are beginning to brown on the edges, about 5 minutes. Add the bell peppers, celery, garlic, Poultry Magic and Magic Pepper Sauce. Cook, stirring and scraping frequently, until the onions, celery and bell peppers are beginning to brown and soften, about 6 minutes. Add the giblets. Stir until the giblets are fully cooked, but not browned, and the seasoning has a rich flavor, about 10 minutes. Add the remaining butter and remove from the heat. Stir well until butter is melted. Remove bay leaves.

Put the baked crumbled cornbread in a large mixing bowl. Fold in the milk/egg mixture, then fold in the vegetable mixture until evenly mixed.

Spread into a 9x9-inch baking dish and place in oven for 20 minutes. Remove when top is a light golden brown. Serve hot.