A specialty item formerly made in delis and butcher shops, Hog's Head Cheese has now become a homemade staple of a southern Louisiana charcuterie board, along with boudin, tasso and andouille!  Ours is prepared with three cuts of pork to bring the best flavors of the seasoned meats and veggies together for a dairy-free pork terrine-type spread.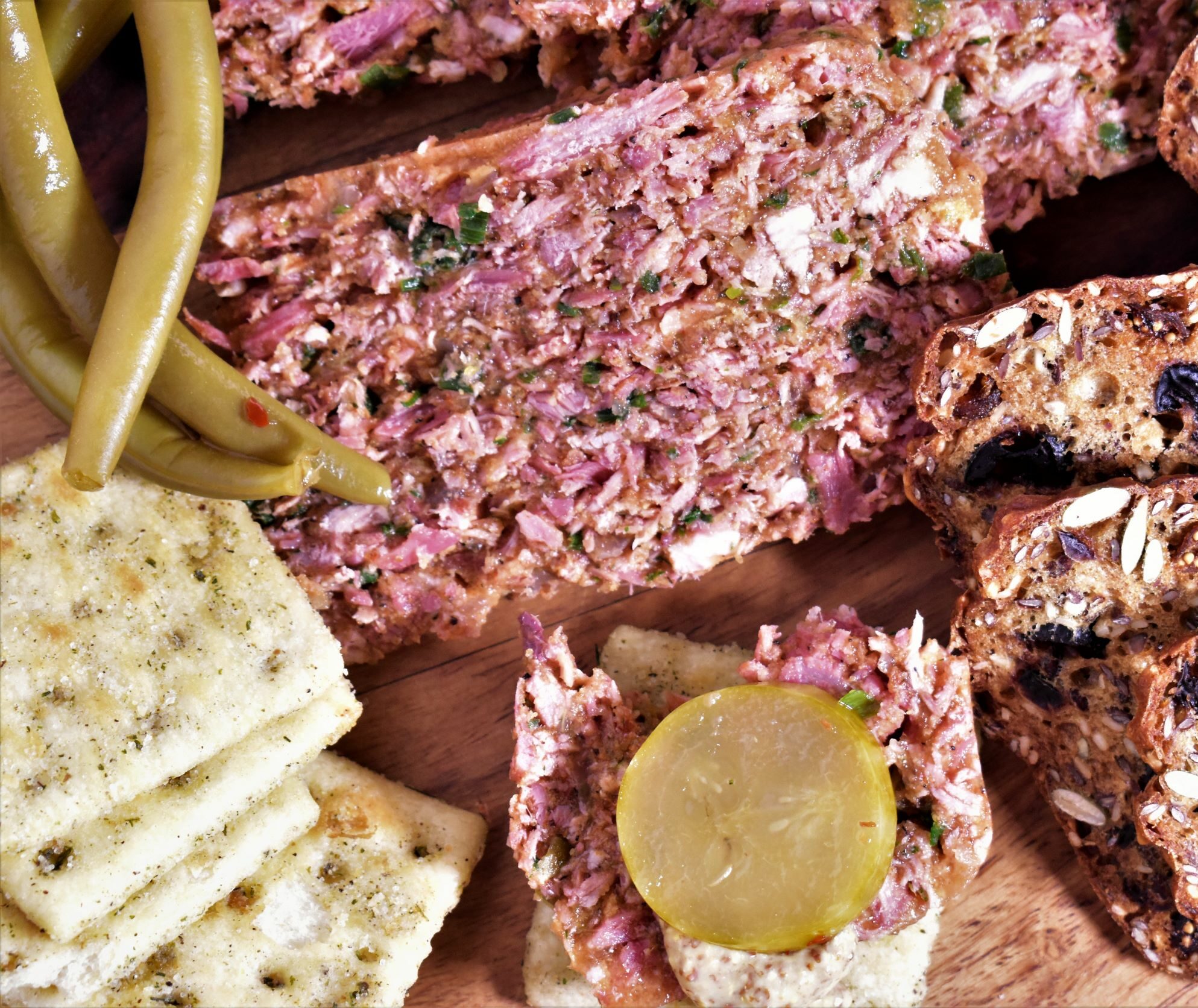 Servings
Ingredients
1½ lbs cubed pork butt
4 tablespoons Magic New Orleans Blend, in all
1 tablespoon canola oil
½ lb pork trotters
1¼ lbs smoked ham hocks
1 cup diced onion
½ cup diced celery
½ cup diced green bell pepper
1 tablespoon minced garlic
6 cups water
½ cup chopped green onion
2 tablespoons minced parsley
2 tablespoons Magic Pepper Sauce®
3½ tablespoons cane vinegar
1 pack gelatin
---
How To Prepare
Season the pork butt with 1½ tablespoons of New Orleans Blend seasoning, then refrigerate for at least 4 hours, and up to 24 hours.

When ready to cook, heat the oil in a large heavy pot over medium high heat. When oil is hot, add the pork butt and brown well. Remove the pork butt and drain the oil from the pot. Add the pork back to pot along with the trotters, ham hocks, onion, celery, bell peppers, garlic, water, and 1 tablespoon of the seasoning. Bring to a boil, then lower to a simmer, cover and cook for 2 hours.

Pour meat and vegetables through a strainer and reserve stock. Let cool slightly, then add the stock back to the pot, along with the trotters and hocks, and boil until stock has reduced to about 2 cups.

Strain again, reserving both meat and stock separately. When the pork is cool enough to handle, shred by hand and remove the chunks of meat from the hocks, discarding the skin and bones.

Add the rest of the Magic New Orleans Blend, green onions, parsley, Magic Pepper Sauce®, and cane vinegar to the meat, and mix well.

Whisk the gelatin into the reserved stock.

Add about 1½ cups of the stock to the meat mixture and combine. Mixture should look very wet (add additional stock if needed). Pour into a loaf pan or terrine mold. Cover with plastic wrap and refrigerate overnight.

To serve, invert onto a plate or board and a side of crackers and crostinis, mustard and pickles.