This Jambalaya Queso dip can easily be used to make a Cajun Mac & Cheese! Just add 2 pounds of your favorite cooked pasta, stir well and serve hot!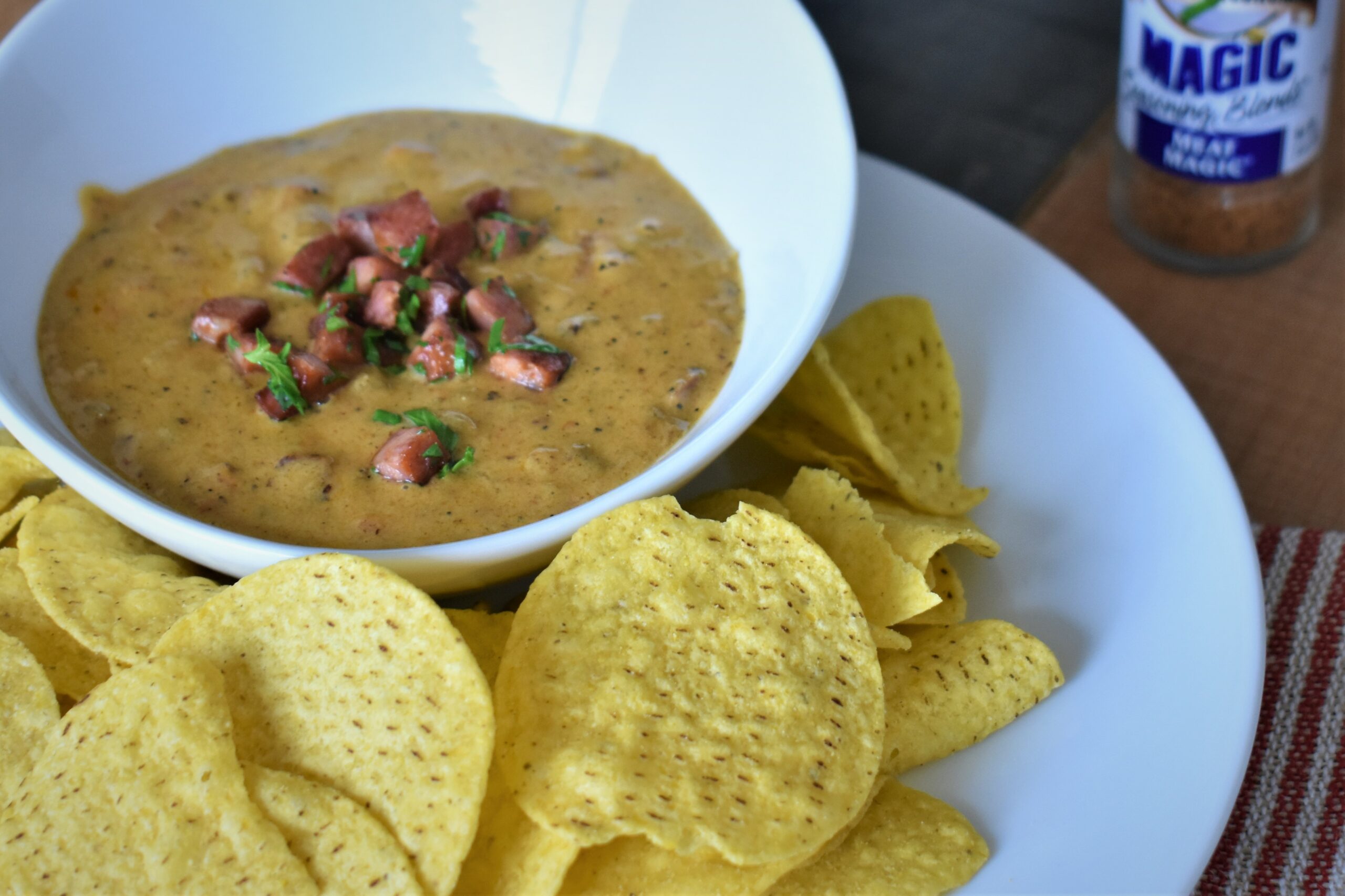 Servings
Makes 1 quart
Ingredients
1 tablespoon unsalted butter
¼ pound Chef Paul Prudhomme's Tasso, diced
¼ pound Chef Paul Prudhomme's Andouille Smoked Sausage (hot or regular), diced
½ cup onions, diced
½ cup celery, diced
½ cup bell pepper, diced
2 teaspoons garlic, minced
¼ cup tomato sauce
½ cup diced canned tomatoes
¾ cup chicken stock
1 tablespoon Chef Paul Prudhomme's Meat Magic®
1 (8-ounce) block Pepper Jack cheese
1 tablespoon cornstarch
1 (12-ounce) can evaporated milk
---
How To Prepare
Jambalaya Base: In a 2-quart pot, melt butter on medium high heat. Add Tasso and Andouille and sauté until brown, stirring often. Add onions, celery and bell peppers and scrape bottom of pan. Cook until vegetables are soft and starting to turn brown. Add garlic and cook until garlic starts to smell sweet, about 3 minutes. Add tomato sauce and simmer for about 5 minutes. Add diced tomatoes, chicken stock and Meat Magic® and bring to a boil. Reduce to a simmer and cover. Cook for about 30 minutes. Remove lid and cook for 10 more minutes, or until sauce is very thick. Set Jambalaya Base aside.

Queso: Grate Pepper Jack cheese. Add cheese and cornstarch to a mixing bowl and toss to coat. Put in pot with evaporated milk and heat on medium, whisking constantly, until cheese is melted and sauce is thick. Add reserved Jambalaya Base to cheese sauce and stir to combine. Serve hot!