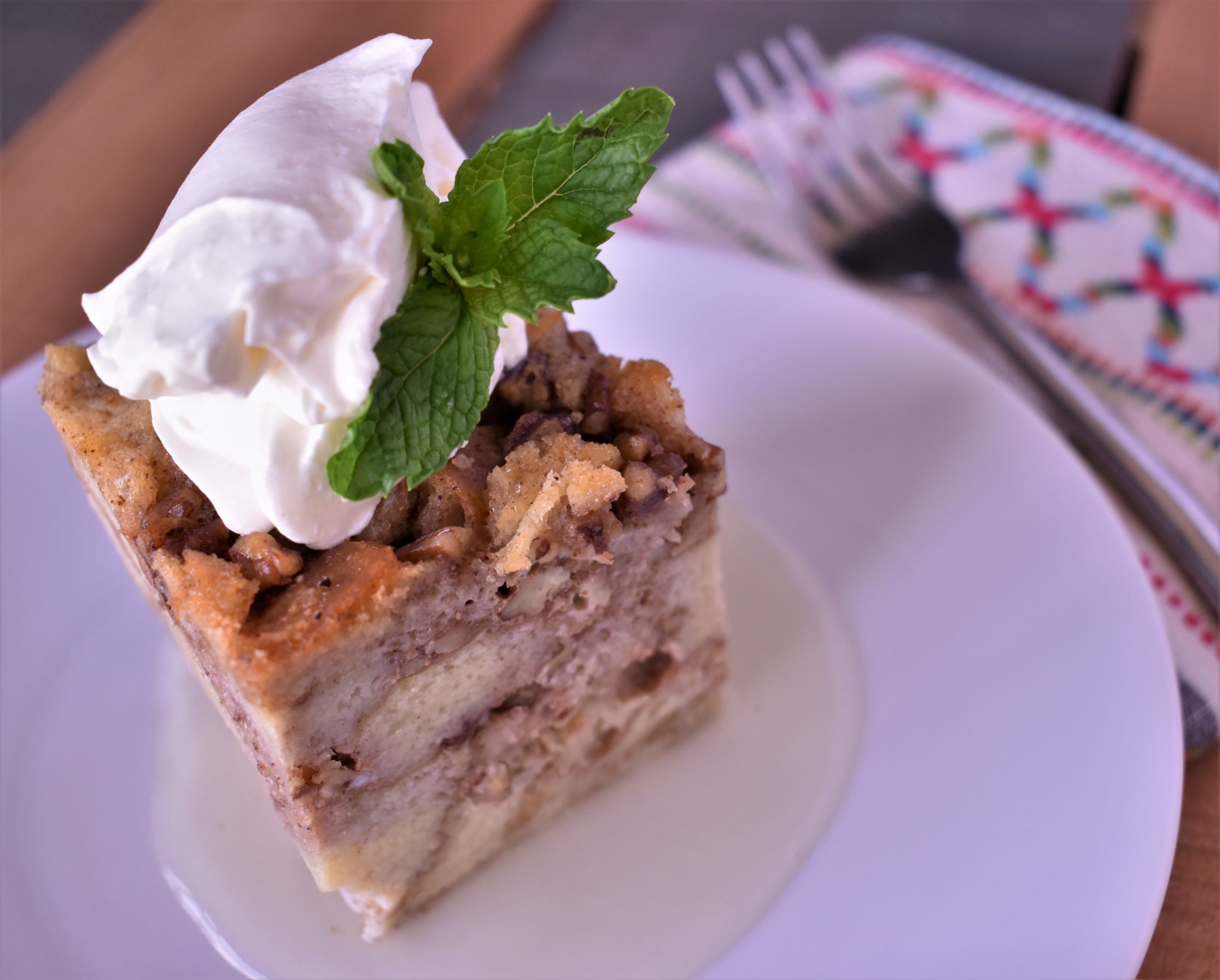 Servings
Makes 8 servings
Ingredients
BREAD PUDDING:
4 large eggs
1¼ cups sugar
1½ teaspoons vanilla extract
1½ teaspoons ground cinnamon
1¼ teaspoons ground nutmeg
½ cup unsalted butter, melted
2½ cups milk
½ cup coarsely chopped pecans, dry roasted
5 cups fresh French or Italian bread, small cubes, with crusts on


LEMON SAUCE:
1 lemon, halved
½ cup water
¼ cup sugar
2 teaspoons cornstarch dissolved in 1/4 cup water
1 teaspoon vanilla extract


CHANTILLY CREAM:
⅔ cup heavy cream
1 teaspoon vanilla extract
1 teaspoon brandy
1 teaspoon Grand Marnier
¼ cup sugar
2 tablespoons dairy sour cream

---
How To Prepare
BREAD PUDDING:
Preheat oven to 350°F. Place fresh cubed bread on parchment lined baking sheet and toast bread for 15 to 17 minutes, till light brown in color. Remove from oven and let cool.

In a large bowl whisk together, the eggs, milk, sugar, vanilla, nutmeg, cinnamon, and butter until well blended.

Place the bread cubes in a greased loaf pan. Pour the egg mixture over them and toss until the bread is soaked. Soak for 2 hours in the refrigerator, gently pressing the bread down into the liquid occasionally.

Cover pan with aluminum foil and place into a roasting pan. Fill roasting pan with boiling water, about halfway up the loaf pan. Bake in a 350°F oven for 1 hour, remove foil from the loaf pan and continue baking for 30 more minutes, until nice and golden brown in color.

To serve, put 1½ tablespoons warm lemon sauce in each dessert dish, then spoon in a half cup hot bread pudding and top with a quarter cup Chantilly Cream.


LEMON SAUCE:
Squeeze 2 tablespoons juice from the lemon halves and place juice in a 1-quart saucepan; add the lemon halves, water and sugar and bring to a boil. Stir in the dissolved cornstarch and vanilla. Cook one minute over high heat, stirring constantly. Strain, squeezing the sauce from the lemon rinds. Makes about 3/4 cup. Serve warm.


CHANTILLY CREAM:
Refrigerate a medium-size bowl and beaters until very cold. Combine cream, vanilla, brandy, and Grand Marnier in the bowl and beat with electric mixer on medium speed 1 minute. Add the sugar and sour cream and beat on medium just until soft peaks form, about 3 minutes. Do not overbeat. Makes about 2 cups.