This dish will knock your socks off! It's wonderful with Oyster Dressing, and the leftovers make terrific sandwiches.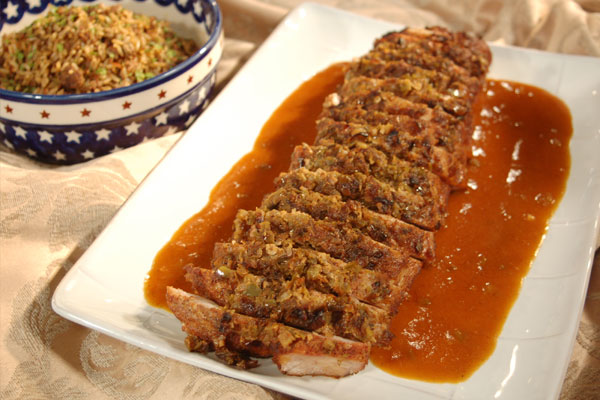 Servings
Makes 6 servings
Ingredients
2 tablespoons unsalted butter
2 tablespoons vegetable oil
½ cup finely chopped onions
½ cup finely chopped celery
½ cup finely chopped green bell peppers
1 tablespoon minced garlic
2 tablespoons Chef Paul Prudhomme's Meat Magic®
1 (4-pound) boneless pork shoulder roast. Boston butt, or loin roast
Opelousas Gravy
---
How To Prepare
Heat the butter and oil in a skillet over high heat. Add the onions. Cook, stirring frequently, until the onions are just beginning to brown on the edges, about 5 minutes. Add the celery and bell peppers. Cook, stirring frequently, until the celery and bells are cooked through, about 2 minutes. Add the garlic and stir well, then add the Meat Magic® and cook until the seasoning darkens slightly, about 2 minutes. Remove from heat and set aside to cool.
Preheat the oven to 275°F.
Meanwhile, place the roast in a baking pan, fat side up. Make several slits in the meat with a knife, to form pockets, being careful not to cut through to the bottom. Stuff the pockets with some of the vegetable mixture, then spread the remaining vegetable mixture over the top of the roast and rub a little on the sides. Bake uncovered at 275°F until tender about 4 hours.
Reserve the pan drippings for making the
Opelousas Gravy
.