We're using thin-sliced crispy potatoes for these tasty nachos! We made them a little spicy with our Magic Creole Seasoning – but we didn't stop there! We topped them with our hot andouille sausage and Magic Pepper Sauce for a spicy snack that's filling enough for dinner too!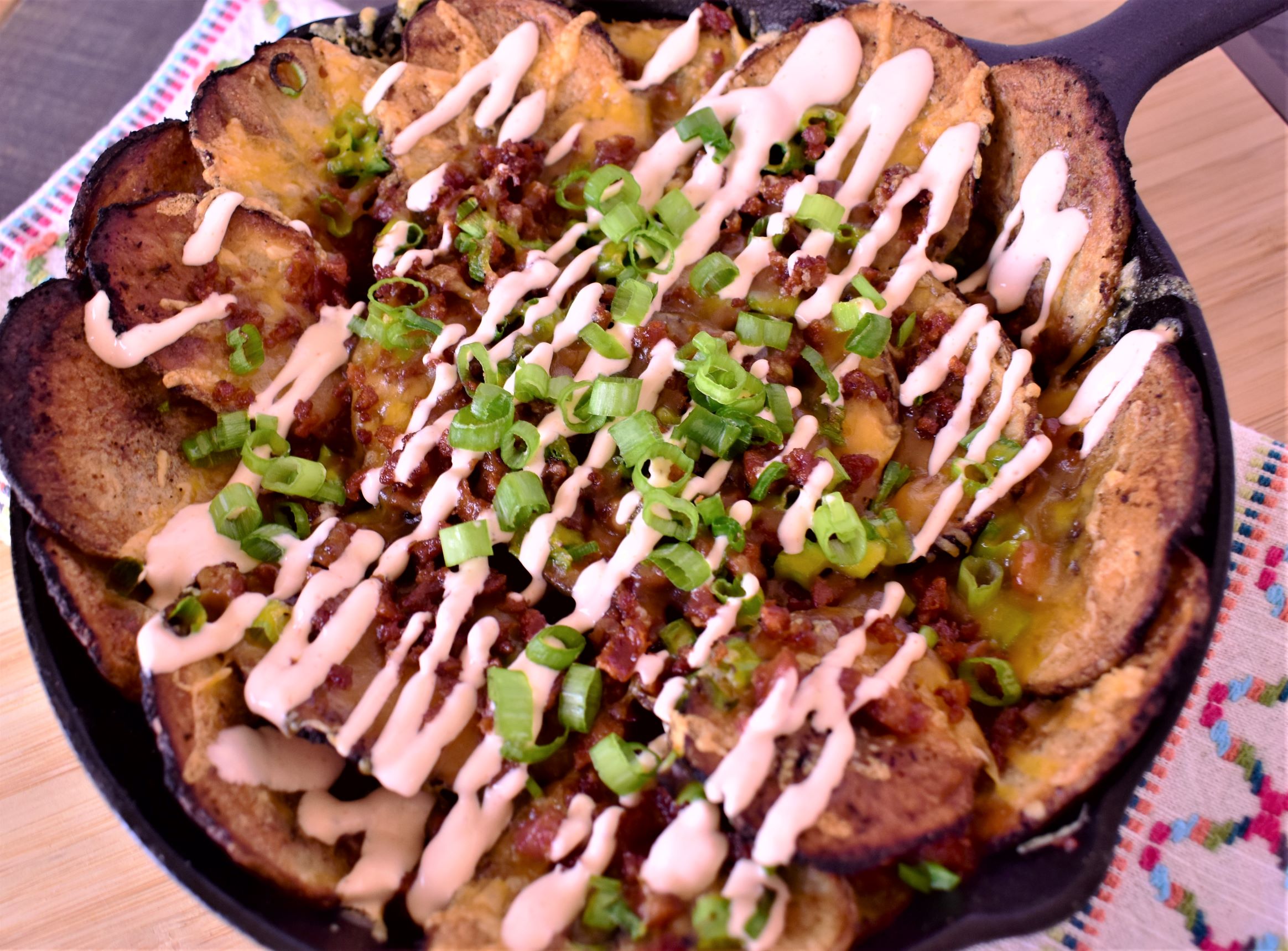 Servings
Makes 8 servings
Ingredients
1 cup Chef Paul Prudhomme's Hot Andouille Smoked Sausage, cut into rounds
4 russet potatoes, washed and dried
2 tablespoons olive oil
1 tablespoon Chef Paul Prudhomme's Magic Creole Seasoning™
5 green onions, thinly sliced
2 cups shredded cheddar cheese
½ cup sour cream
Magic Pepper Sauce® (to taste)
---
How To Prepare
In a food processor, pulse the Andouille rounds until finely chopped. Add andouille crumbles to a skillet over medium high heat and sauté for 3 to 4 minutes, or until brown and crispy.

Preheat oven to 400°F. Line a large baking sheet with parchment paper and spray with non-stick cooking spray.

Slice potatoes into ¼-inch thick rounds. Using a large mixing bowl, add potatoes, Magic Creole Seasoning™ and olive oil. Toss well to coat, then lay potatoes on prepared baking sheet in a single layer.

Place in oven and bake for about 20 minutes or until crispy. Flip potato slices over and bake for another 20 minutes or until dark brown in color. Remove from oven.

While potatoes are baking, whisk sour cream and Magic Pepper Sauce together in a small bowl and refrigerate until ready to use.

Set oven to broil and using a large cast iron skillet or clean baking sheet, lay potatoes in a single layer then top with half of shredded cheese, andouille crumbles, and green onions. Build additional layers of potatoes and toppings until all ingredients have been used up.

Bake for 2 to 3 minutes or until cheese has melted. Remove from the oven and drizzle with sour cream mixture before serving.