In this adaptation of Julia Child's French classic Boeuf Bourguignon, we used our smoky Tasso ham in place of the bacon, sweet potatoes instead of carrots, and replaced the spices with our Magic Creole Seasoning. These small changes broke tradition but still emulate the flavors and cooking styles of both Julia Child's and Chef Paul's recipes.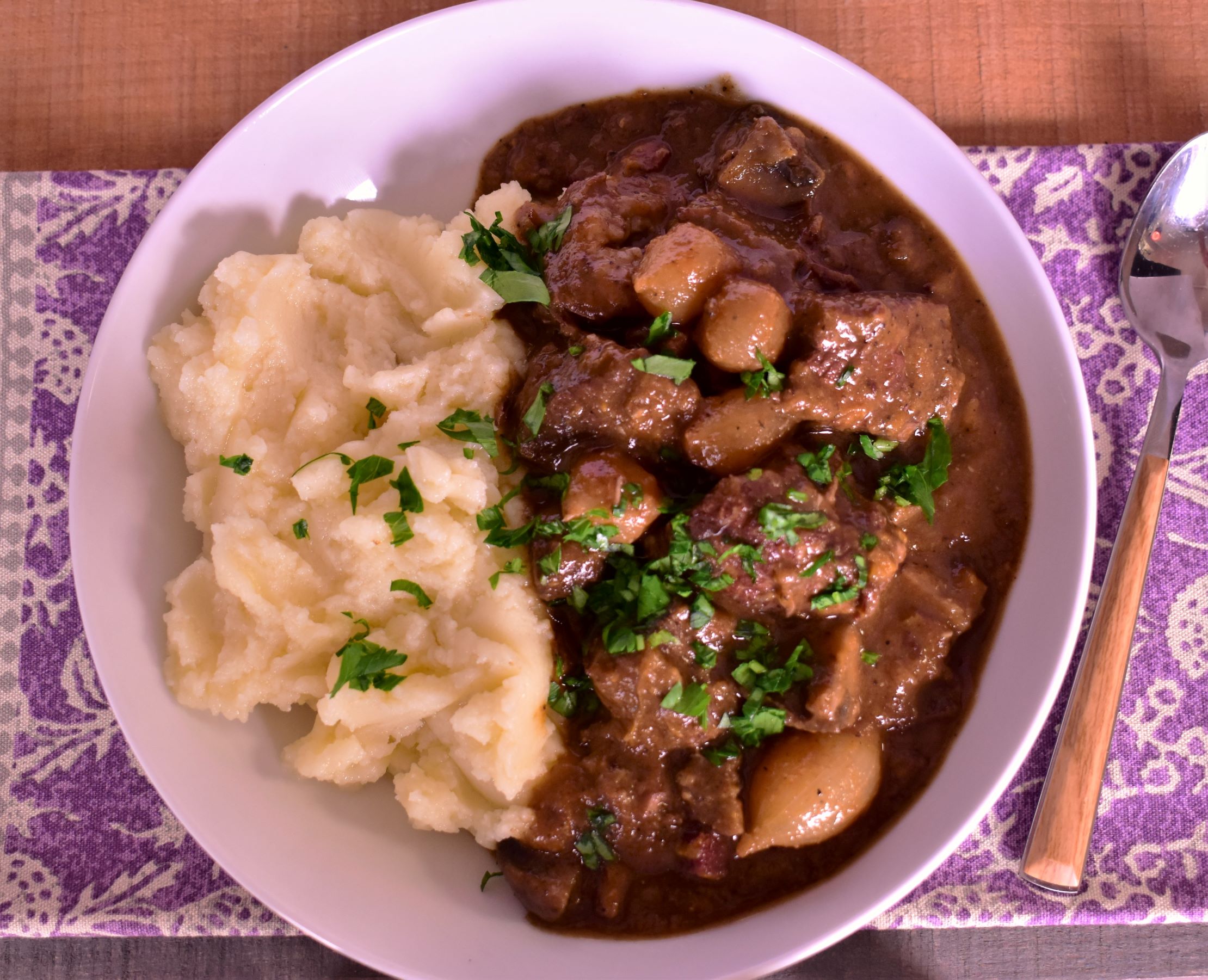 Servings
Makes 6 servings
Ingredients
3-pound chuck roast, cut into 2-inch cubes
3 tablespoons Magic Creole Seasoning™, in all
2 tablespoons all-purpose flour
3 tablespoons olive oil, in all
2 cups sliced onions
2 cups peeled and large diced sweet potato
8 cloves peeled and smashed garlic
1 tablespoon tomato paste
3 cups Chianti (or other dry red wine)
3½ cups unsalted beef stock, in all
3 bay leaves
8 ounces diced Tasso
3 tablespoons unsalted butter
20 frozen pearl onions
1 pound trimmed and halved cremini mushrooms
---
How To Prepare
Preheat oven to 350°F. Toss the cubed chuck with 1 tablespoon of Magic Creole Seasoning™ and the flour and mix well. In a large heavy bottomed pot, heat 2 tablespoons of the oil over medium high heat until hot. Add the beef in batches, cooking until browned on all sides and remove from pot. Add the onions, sweet potato, and garlic and cook for 5 minutes or until onions are starting to brown. Add the tomato paste and stir well, cooking for one minute. Add the wine, 3 cups of stock, bay leaves, Tasso, and 1 tablespoon plus 2 teaspoons of Magic Creole Seasoning™. Stir well and bring to a boil. Cover, place in oven and cook for 2½ hours. In the last hour of cooking, melt half of the butter in a skillet over medium heat. Add the pearl onions and cook until brown, about 10 minutes. Add the rest of the stock and Magic Creole Seasoning™ and stir well. Reduce the heat to low and cook until onions are tender, and stock has almost completely evaporated, about 40 minutes. Remove from skillet and reserve. Add the rest of the butter to the skillet and place over high heat. Add the mushrooms and cook, tossing to coat in the butter, for a few minutes until mushrooms have leeched their liquid and it has evaporated. Remove the pot from the oven, uncover, add the pearl onions and mushrooms, and cook over medium heat until sauce has reduced to desired thickness. Serve over rice, mashed potatoes, or pasta.