The chayote, also known as mirliton, is a member of the squash family. They're also referred to as vegetable pear, christophene, cho-cho, huisquil, and guisquil in other parts of the world. Their thin skin is bumpy and pale green, and the crisp flesh is a very pale greenish-white. Its mild flavor adapts well to a variety of uses – raw in salads, stuffed with seafood or meat, or chopped into casseroles, soups or stews.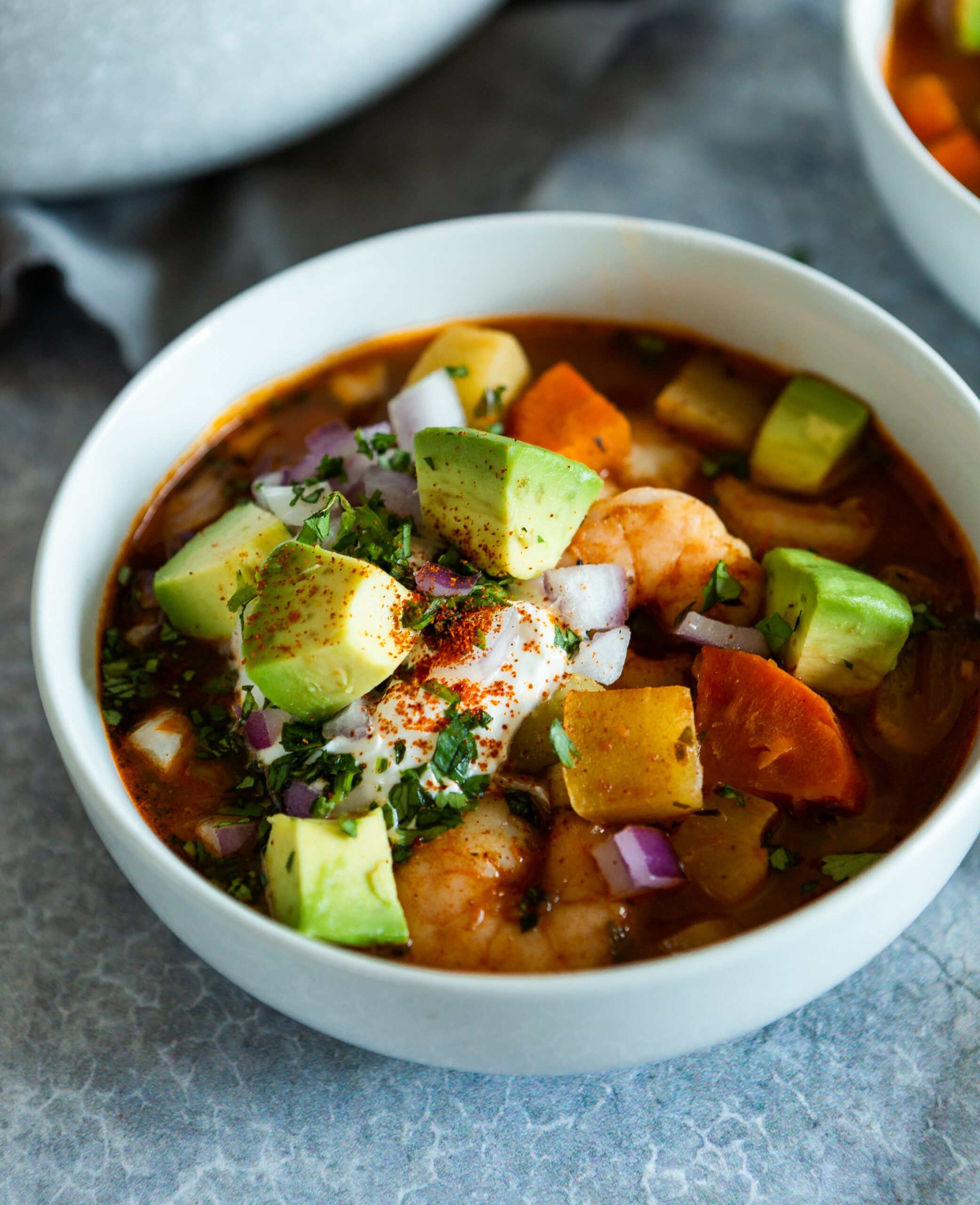 Servings
Makes about 12 cups
Ingredients
4 small tomatoes, quartered
2 tablespoons Magic Ancho Chile
1 tablespoon Magic Guajillo Chile
6 cups seafood or shrimp stock, in all
3 cloves peeled garlic
1 teaspoon olive oil
4 cups diced chayote, seed removed
1 cup diced onions
2 cups diced carrots
2 tablespoons Magic Chipotle Seasoning™
1 tablespoon kosher salt
1 tablespoon chopped cilantro
1 lb medium sized shrimp, peeled and deveined
---
How To Prepare
Add the tomatoes, ancho, guajillo, and 3 cups of the stock to a stock pot and bring to a boil. Lower to a simmer and cook for 15 minutes. Then add the tomato mixture to a blender with the garlic and puree. Set aside.

In a heavy bottomed pot, heat the oil over medium high heat. When oil is hot, add the chayote, onions, and carrots and cook for 5 minutes. Add the pureed tomato mixture, remaining stock, Magic Chipotle Seasoning™, salt, and cilantro. Stir well, bring to a boil, then lower to a simmer, and cook for 20 minutes. After 20 minutes, add the shrimp and cook for another 5 minutes.

Serve hot with diced onion, lime, avocado, cilantro, and sour cream.