The tradition of the King Cake is thought to have come from France, where it was created to celebrate the Epiphany, or King's Day, on January 6th.  It was brought to the United States sometime in the late 1800s, where it later came to become a more elaborate and well-decorated cake used to celebrate the start of Carnival Season and Mardi Gras in New Orleans.  It's traditionally decorated with purple, green and gold to represent justice, faith and power.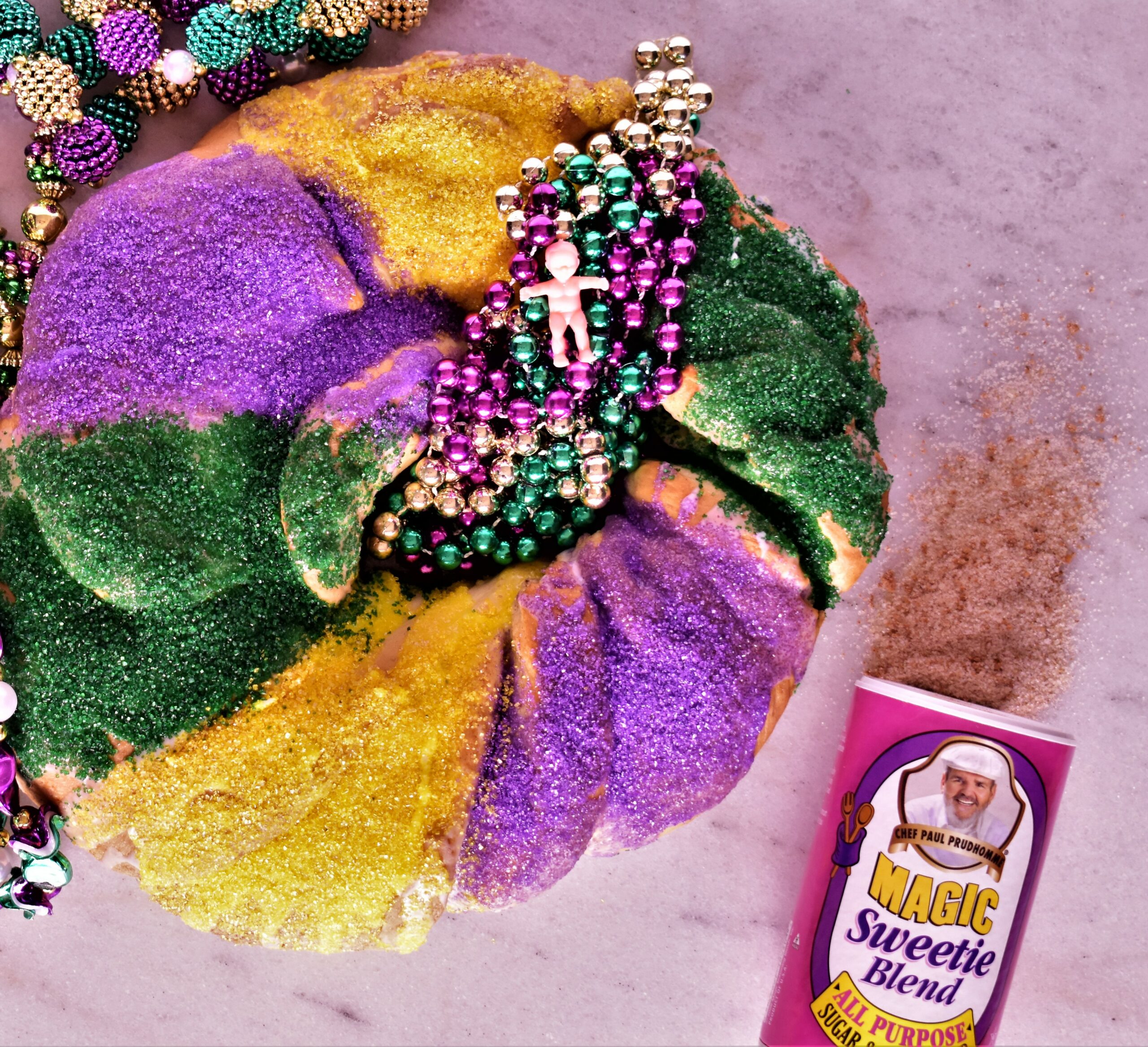 Servings
Makes about 12 servings
Ingredients
2½ to 3 cups all-purpose flour, in all
1½ tablespoons sugar
1½ tablespoons Sweetie Magic®
1 packet rapid rise yeast
1 teaspoon salt
¾ cup milk
3 tablespoons butter
1 teaspoon vanilla extract
2 eggs

½ cup Sweetie Magic®, divided
8 tablespoons unsalted butter, softened, divided

ICING:
¼ teaspoon vanilla extract
2 cups powdered sugar
4 tablespoons milk

¾ cup decorative color sugars (purple, green and gold/yellow are traditional for Mardi Gras)
---
How To Prepare
Combine 1 cup flour, sugar, Sweetie Magic®, yeast, and salt in a large mixing bowl and stir until well combined. Add the milk and butter to a microwave-safe bowl and microwave on high in 15 second increments until very warm, about 120° to 130°F (butter will not be completely melted). Carefully add to flour mixture and beat on medium speed for 2 minutes. Add egg and vanilla and mix until fully incorporated, be sure to also scrape down the sides of the bowl. Add 1 cup flour and beat for 3 minutes. Mix in just enough of the remaining flour so that the dough will form into a ball (about 2¾ cup flour in total).

Remove dough from the bowl and knead for 3 to 5 minutes.

Form dough into a small disc, place in a bowl, cover and let rest for 10 minutes in a warm, non-drafty area.

Remove rested dough from bowl and roll out to 16 x 10-inch rectangle. Spread the longest side with 4 tablespoons of the softened butter, then sprinkle with ¼ cup of Sweetie Magic®. Fold over and spread the remaining softened butter and sprinkle the rest of the Sweetie Magic®. Roll dough jelly-roll style, starting with the long side. Twist as you are rolling and pinch the seam to seal.

Place seamed side down on a greased baking sheet and form into a circle. Cover and let proof 30 minutes.
Preheat oven to 350°F.

Bake king cake for 20 to 25 minutes, or until light brown on the outside. Remove from oven and let cool.

To make the frosting, add the powdered sugar, milk, and vanilla to a medium size bowl, and whisk together until it's a smooth, pourable consistency. Pour the frosting over the cooled king cake, covering all the king cake and sprinkle with colored sugars.